Peter Rosén/LapplandMedia AB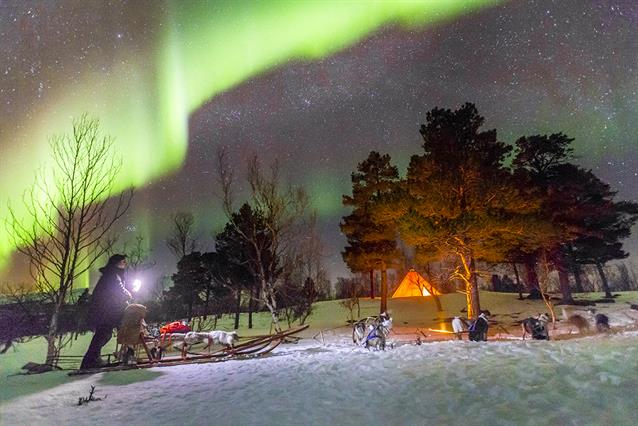 Peter Rosén/LapplandMedia AB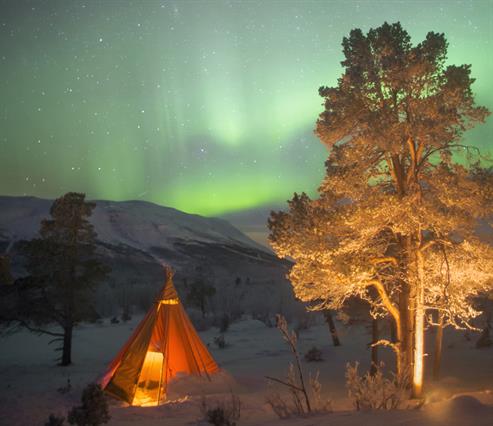 Peter Rosén/LapplandMedia AB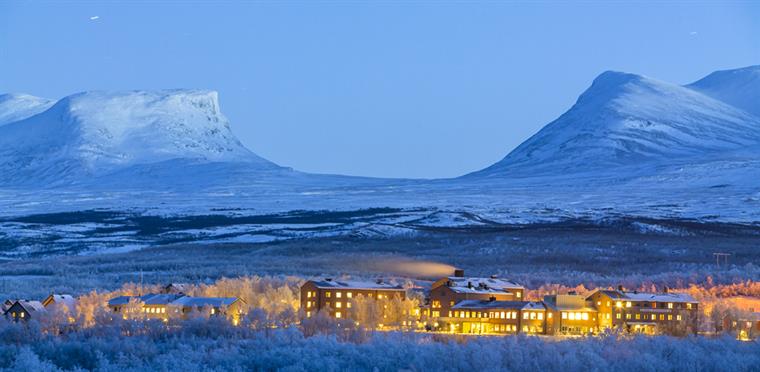 Peter Rosén/LapplandMedia AB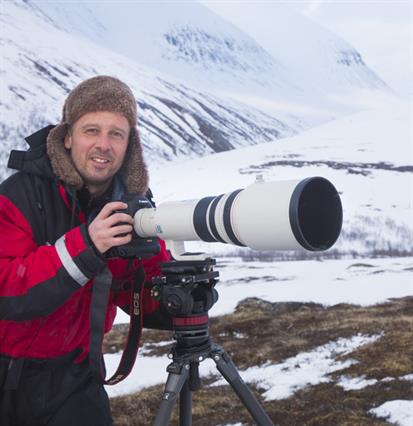 Peter Rosén/LapplandMedia AB
Peter Rosén/LapplandMedia AB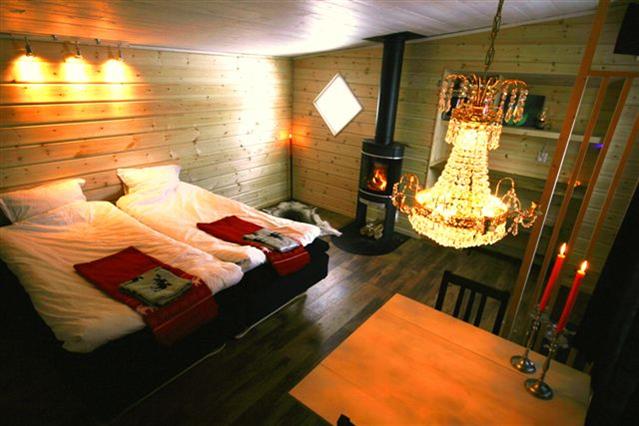 Kiruna Guidetur
Norrsken, Sapmi, astro & wildlife foto workshop – 6 dagar – Abisko & Kiruna
LapplandMedia & PhotoAdventures – din fotoguide till norrskenet!
Gå en midvinterkurs i fotografering och upplev samtidigt norrsken, kör din egen rensläde på tundran, hundspann genom midvinterskogar, fotografera älg, besök ishotellet och åk på skotertur till fina fotoplatser i Abiskodalen och Kirunas midvinterskogar. Fotografen Peter Rosén har jobbat 15 år som professionell naturfotograf och i en fördjupad 6 dagarskurs visar Peter hur du bäst kan fånga norrskenet, stjärnorna, galaxer, den samiska kulturen, djur och det vackra midvinterlandskapet på bild. Vi bor på Aurora Wilderness Camp utanför Kiruna 3 nätter och 2 nätter vid STF Abisko Turiststation.
Peter har arrangerat fotokurser sedan 2001 och är fotografen bakom böckerna "Aurora Borealis i Lappland" och "Midnattssol över Lappland". Han har en bakgrund som docent inom miljövetenskap och är kunnig om den arktiska naturen och norrskenet.
Vi är sannolikt det mest framgångsrika norrskensguidningsföretaget i världen. Alla våra flerdagars gäster sedan vi började 2012/13 (c. 50 grupper) har sett och fotograferat norrskenet i vackra miljöer! En orsak till vår stora framgång är att vi bara tar 7 gäster på våra turer och vi har tillgång till både en AWD minibuss och skoter varje dag. Det innebär att vi är mycket flexibla under våra dagar tillsammans. Lonely Planet rankar också Abisko som den bästa platsen på jorden för att se norrsken. Orsaken är att Abisko ligger precis under norrskensovalen och ett mikroklimat gör att det är mer stjärnklara himlar i Abisko än någon annan plats i norra Skandinavien. Det gör att Abisko också är en bra plats för astro fotografering och under turen får du lära dig grunderna i astrofotografering. Läs gärna tidigare gästers omdömen om våra turer på Tripadvisor.
Under turen kommer vi att köra hundspann både dag och kvällstid, träffa samer och köra rensläde på gammalt traditionellt sätt, fotografera älg, skoterfärd in i Abiskodalen och en traditionell samisk kåta, minibussutflykter till fina fotoplatser, besöka ishotellet. Vi håller också kursmoment inomhus där du får kritik på de bilder du tagit samt går igenom hur du bäst redigerar dina bilder i photoshop eller lightroom. Vi går även igenom grunderna i astro fotografering och du får lära dig hur du på egen hand kan fotografera andromeda galaxen, nebulosor, vintergatan och månen. Vi har tillgång till en astrotracker som gör att vi kan använda långa exponeringstider och fotografera ljussvaga objekt.
Turen sponsras av och är en del av Canons fotoskola och tack vare Canon och Manfrotto kan vi erbjuda amatör och professionella kameror och objektiv (14-500mm) samt stativ – utan extra kostnad. Även en star tracker för astrofotografering finns tillgänglig.
Program
Day 1 Lapland Landscapes and Aurora Borealis: We will pick you up at the airport or any hotel in Kiruna after lunch. We will get dressed in warm clothing and head out to Aurora Wilderness Camp where you can light a fire and settle into your cosy cabin in the forest. Do not expect luxury here, but cosy with beautiful views over the Torne River, the mountains and excellent spots for aurora photography straight from your cabin. A great place for adventures. We will use the evening light for landscape photography from the lodge. Before dinner we will go through the basics in aurora and night photography.
After a two-course gourmet dinner at the lodge it is time to gear up and head out for aurora hunting! We will keep an eye on the weather and aurora forecast and head to whichever location offers us the best chance of seeing the aurora borealis, and we have many stunning locations to choose from!
Day 2 Dog-sledding and Aurora Borealis: You will be allocated your own huskies and instructed on how to handle your sled and dogs. We then head off for a few hours into snow-covered forests and over frozen lakes, making stops for photography along the way. Lunch outdoors over an open fire inside a lavvu (a traditional Sami tipi tent). In the afternoon we will have some free time to download images, time for private tuition and perhaps a wood-heated sauna. After dinner, we will go aurora hunting, a pattern we repeat each and every night. If the aurora comes out to dance, we are often out quite late (trust us, you will forget you are tired if you are watching the aurora!).
Day 3 Moose, ICEHOTEL and Aurora Borealis: After breakfast we will drive up into the mountains to photograph the beautiful landscape and perhaps also moose (no guarantee to see one, but all groups in 2015-16 have succeeded). Moose is the largest species in the deer family. You are welcome to borrow long Canon telephoto lenses from us for wildlife photography (eg. 400:2.8, 300,2.8, 400:4.0, 300:4.0). We will have lunch at a restaurant in Kiruna. In the afternoon we will visit the world famous ICEHOTEL, which is the world's first hotel made of ice and snow. Founded in 1989, it is reborn in a new guise each winter, in the Swedish village of Jukkasjärvi. A very nice location for photography!
Day 4 A Trip to the Mountains – Sami culture, Reindeer Sledding, Landscapes and Aurora Borealis: After breakfast we will drive up into the mountains. We stop at Rensjön, a Sami village between Kiruna and Abisko. Marja, a Sami woman living in Rensjön will take us on an exhilarating and very unique experience. You will be allocated your own reindeer and lead it to your sled, where you will be instructed on how to handle your sled and reindeer. We then head off for a few hours into the snow-covered forest and onto frozen lakes, making stops for photography along the way. It is the traditional way for Sámi to travel and a magical experience. After the tour we will eat a traditional Sami lunch around the fire inside a lavvu (a traditional tipi tent) and learn about the Sami life today.
After the tour we will head further up into the mountains and to the small village of Abisko – famous for aurora watching. We settle into our accommodations before heading out again to photograph the mid-winter landscape of Abisko National Park. After our sumptuous 3 course dinner, it's time to gear up. We will either take a snowmobile ride into the Abisko valley or take a minibus to a nice photo spot. We are flexible to maximize our chances for great aurora images. We return to our hotel around midnight for a well-deserved sleep.
Day 5 Mountain Landscapes, Aurora Borealis and Astro Photography: This day offers the perfect a mix of outdoor photography and tuition. Abisko National Park and its surroundings are an adventurer's playground, and offer a diverse range of subject matter for great photography. Depending on your preferences and previous activities, we will spend time on editing your images. We can also go through how to best edit images of the Milky Way, nebula and other deep sky objects.
After a 3 course dinner, we jump on a snowmobile and head into the wilderness to a traditional lavvu, set up in our own location to provide a wonderful foreground for the aurora, or a great subject to photograph in its own right. We'll also have a fire in the tent and have a chance to sit and talk about everything we've experienced during our tour. It's a wonderful time to reflect on our trip and spend time with new friends in the group, who by now know each other rather well!
Day 6 Departure: After dragging ourselves out of bed and having breakfast, you depart at a civilized mid-morning time to Kiruna for some shopping, visiting the church in Kiruna and then to the airport. You may like to spend more time in Stockholm, or stop over at one of the many wonderful European destinations on your way home. By now you will be wanting to sleep for a million years, but you will not be able to wipe the smile off your face! We recommend booking your departure flight at the earliest around lunch time.
Price 2018: 28 950 SEK/person in a double room (all inclusive). Single room accomodation 30 450 SEK/person.
Tour dates 2018: February 5-10; March 7-12. Other dates possible for groups on request.
Group size: Max 7 persons per departure.
Accommodation: Aurora Wilderness Lodge 4n. STF Abisko hotel 2n.
Guides: Photographer Peter Rosén and activity guides. Bilingual Swedish and English.
Included: Canon SLR camera, Manfrotto tripod, warm sleeping bag in cabins, thermo overall, warm boots, hat and gloves, all activites, transfers, accommodation and full board, access to a AWD VW minibuss and snowmobile. Free WiFi.
Meals: Full board from dinner day 1 to breakfast day 6.
Not included: Travel insurance, international and domestic fare, alcoholic beverages.
Tour conditions: Min age 18 yrs. All activities are moderate. The chance to see and photograph the Aurora Borealis is large but as this a natural phenomenon we can never leave any guarantee. The itinerary may change due to unforeseen conditions.
Equipment: I recommend you to bring your own portable computer and your own camera. Canon SLR cameras and lenses from 8-500mm will also be available. We do have a motorized rail from Ditogear available for nice moves in your time lapse.
Book now! Or at least 30 days prior to departure. Within 30 days reservation may be possible on request. For more info and online booking www.lapplandphotoadventures.com or contact Peter Rosén at info@lapplandmedia.se, Ph +46 70 333 8883.
Why should you choose LapplandMedia & PhotoAdventures for your next photo adventure?
We might be the only company in the world with a 100% success rate on Aurora photo tours. The fleeting nature of the northern lights means it is naturally difficult to guarantee you will see them, but to date we have been thrilled! This means that all previous guests participating on multi-day tours ever since we started five years ago have seen and captured the Aurora in beautiful environments. We are truly dedicated to ensuring our guest's satisfaction and proud to say that we are the winner of the TripAdvisor Certificate of Excellence Award 2014-2016. All our photographers live and comes from Swedish Lapland which means that we have a good local knowledge about being up in the mountains, important not only for safety reasons but also important for good images and stories about living in the Arctic. We welcome you to our own back garden. We have been running photo courses in Abisko and Swedish Lapland at least 10 years longer than any other company in the area. Our idea is that you have come to Swedish Lapland for a once in a life time experience and we will do all we can to fulfill your dream to see and photograph the Aurora and the Arctic landscape in a nice way.
Get inspired and look at Peter Rosén's images here: LapplandMedia