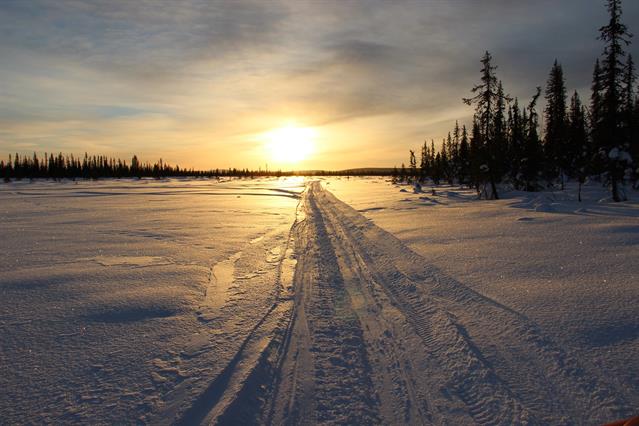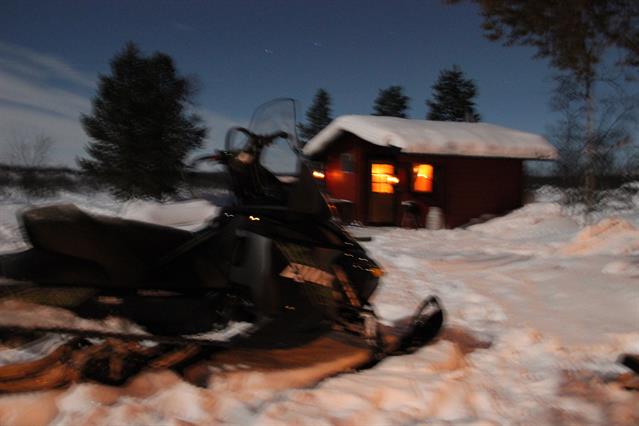 Tundra & Taiga 2 Days
Tundra & Taiga – 2 days
An adventurous overnight trip by snowmobile that takes you from the taiga towards the tundra. Soak up the incredible views of this remote area in the northeast corner of Swedish Lapland very few tourists have ventured into.
Day 1 Tobacco Trail through taiga
We meet  in Jukkasjärvi. Equipped with warm outer clothing and a view on the map, the guide will give instructions how to handle a snowmobile safely, before we leave.
We drive along the old trading route "Tobacco Trail" across frozen lakes and mires and through the primeval boreal forests with pine, fir, and spruce. We have an outdoor lunch break at a scenic and suitable spot. Moose and lynx inhabit the taiga, as do the reindeer that are herded by the Sámi people. After around 60 km we reach the small village of Övre Soppero in the middle of nowhere. Welcomed by our hosts, a traditional reindeer herder family, we eat dinner and take a relaxing sauna. Accommodation in wilderness hut. (L & D)
Day 2 Tundra and way back
After breakfast we say goodbye to our hosts and head off again. The magical beauty of the tundra is visible from afar. Tundra, duottar in Northern Sámi, is a word of Kildin Sámi origin and means uplands or treeless mountain tract. Low temperatures and short growing seasons are typical of the tundra, however the flora and fauna is diverse and able to resist the cold climate. Wildlife as grouse, mountain hare and arctic fox do live here in the sweeping, open landscapes. Today's drive is approx. 60 km with lunch eaten on the trail again before we return back to Jukkasjärvi in the early afternoon. (B & L)
PRICE: SEK 5.100 per person, 2 persons sharing one snowmobile.
SEK 6.500 per person, snowmobile single use.
DEPARTURE: Saturday every week. 10 Jan – 12 April 2016. Other dates possible against request with min 4 participants.
START: 13:00 at hotel/tourist information in Kiruna; 13:30  Jukkasjärvi day 1.
END: 13:30  in Jukkasjärvii; 14:00 at hotel/ tourist information in Kiruna day 2.
GROUP SIZE: Min 2 persons, max 8 persons per departure.
ACCOMMODATION: Dormitory in wilderness hut 1n.
MEALS: Full board from lunch day 1 to lunch day 2. Information on diet (vegetarianism, pescetarianism, allergies etc) needed at time of booking.
INCLUDED: Thermo overall, boots, mittens, hat and helmet. Warm sleeping bag and towel.
TOUR CONDITIONS: Min age 18 yrs. General good health and fitness required. Min age to drive own snowmobile 18 yrs and a valid driving licence for car. An excess of a maximum SEK 8,000 per incident/ snowmobile will be charged to the person who was driving the damaged snowmobile.
LANGUAGE: English and Swedish