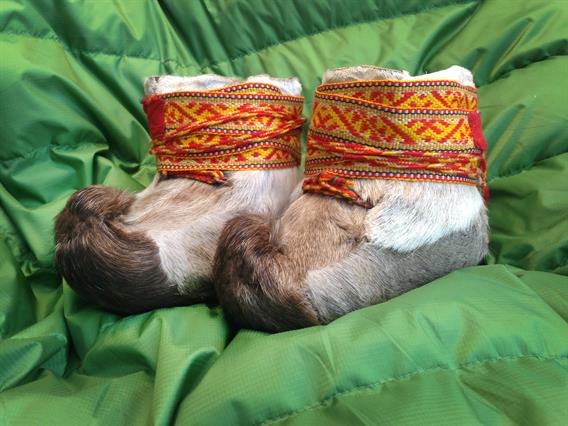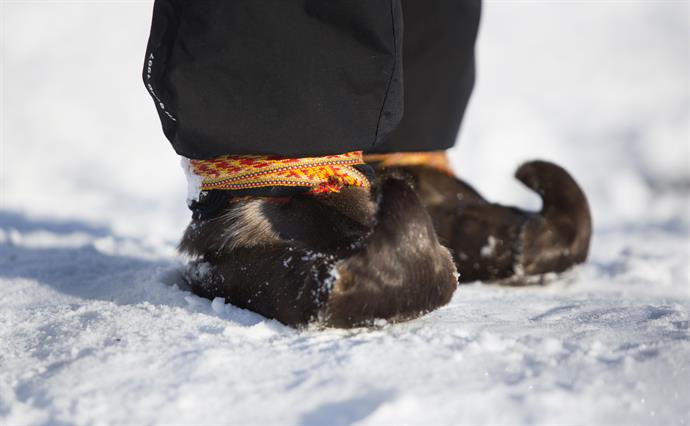 Try the samis traditional shoes made for arctic winter
Ever since ancient times, the reindeer has been a central part of the Sami community. Everything on the reindeer is taken care of. So even the skin that not only provided warm clothes, but also warm shoes – nuvtthagat.
Now you get the opportunity to try to walk in these traditional handmade reindeer skin shoes that many Sami are still using. When you go in a couple of reindeer skin shoes, you will soon notice that it is more than the foot that may work, your whole body is involved. The shoes are designed for the arctic climate and are used during the winter months, when the snow has settled on the ground. But because snow occurs in many different consistencies it means there are different ways to walk on it. Experience the feeling of wearing a pair nuvtthagat, it's like going barefoot without freezing.
The tour ends with coffee/tea and cake. Throughout your stay, you will also get to learn more about the Sami people, their customs, practices and traditions of the past and present. You also get to know more about the reindeer herders lives and what the relocation of Kiruna means from a Sami perspective.
Price: 1 150 SEK/person, 575 SEK/child (3–12 years)
The price includes: Transfer, guide, appropriate warm clothing, coffee/tea and cake
Number of participants: Minimum 4 people, maximum 8 people
Departures: On request, the tour takes about 2,5 hours, December–March (No tour 24/12)