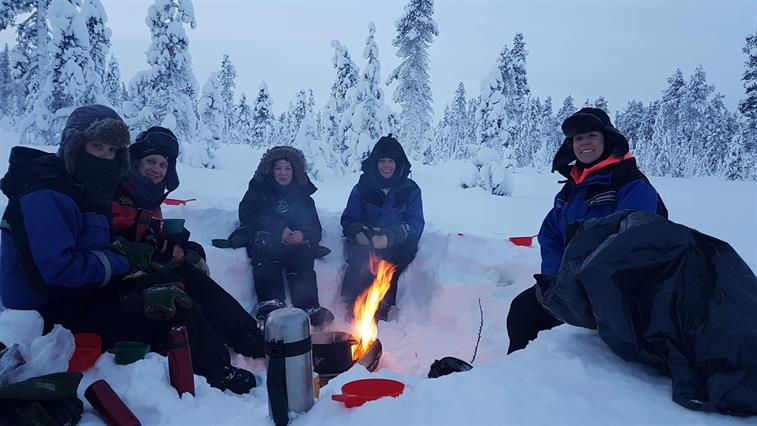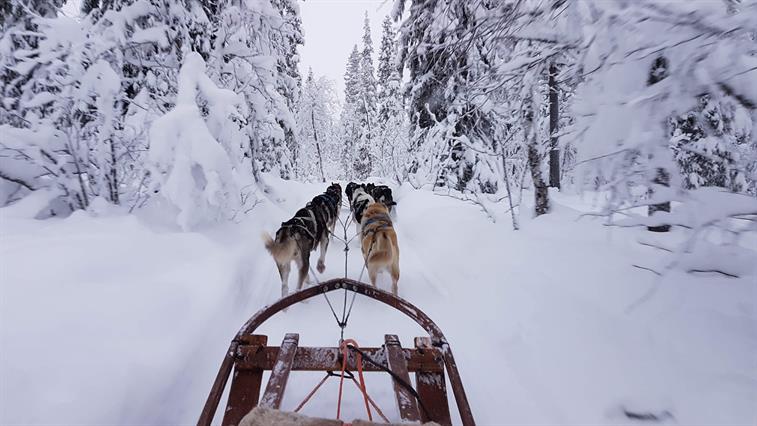 Overnight tour at our Wilderness camp
Let our Huskies take you out on a tour in the amazing Lapland and to our wilderness camp which is situated near a frozen lake.
We will pick you up for the adventure at 13:00 in Kiruna C and take you to our base in Laxforsen, located just outside Jukkasjärvi in Kiruna. We provide warm clothing and shoes. After you getting dressed you are welcome to help us with harness up the dogs.
You run your own sled pulled by 3-4 dogs. You can also choose to share sled with another guest, the sled is then pulled by 4-6 dogs. One of you is sitting on the sled and the other guest is running the sled, you switch position during the tour.
When we and the dogs are ready and the start signal for the tour goes, the dogs will stop barking and all you will hear is the sound of the sled and the breathing from the dogs. Our Huskies take you out on a tour in the amazing Lapland in Jukkasjärvi and Torne Rivers´s surroundings with forest sections often covered in shining snow and frozen lakes and to our wilderness camp. When arriving to the camp we start taking care of the dogs, fetching water from the lake for the sauna. After that we are enjoying the dinner and a sauna bath.
We will provide warm clothes (shoes, overall, warm cap and gloves), sleeping bag, towels. Your own clothing for the tour should be hardwearing and warm – and don´t forget long thermal underwear and socks. Refreshments, dinner and breakfast are included.
The tour also includes change of clothes and a shuttle from/to Kiruna C.
Price: 3650 SEK/per person (own sled), 2900 SEK/per person (shared sled).
The guests will be picked up at 13:00 and back next day at 10:00.
Minimum 2 guests/tour. Are you single guest / traveler, contact us, it may be possible that you can follow with another booked group. Max 6 guests/tour.
For booking please email to teamasanilsson@gmail.com or call +46705670145 or +46703123035.