Foto: Britt Hammar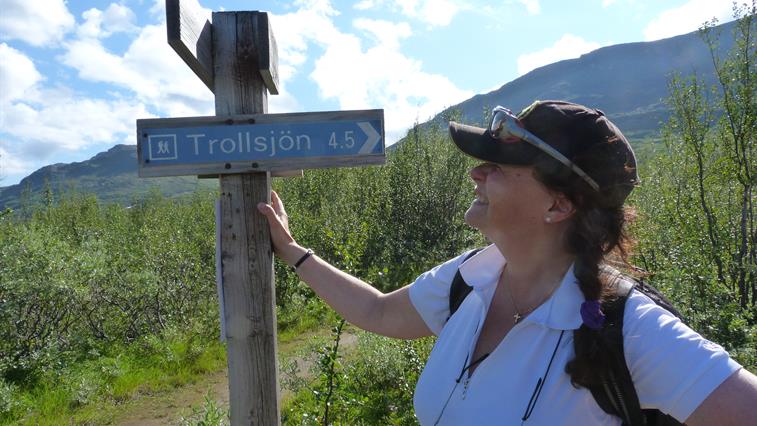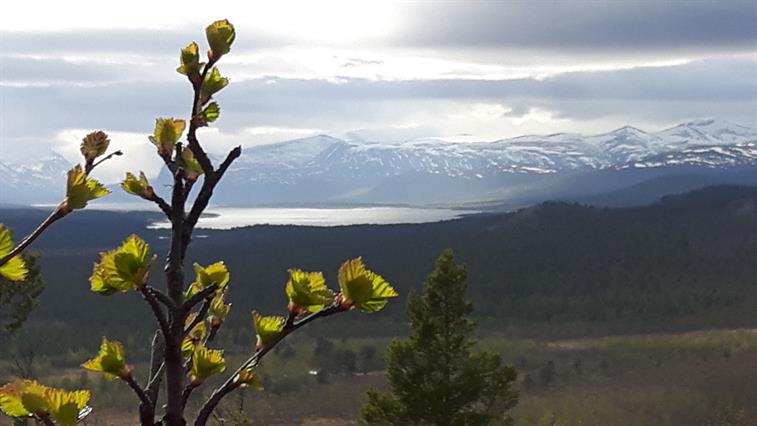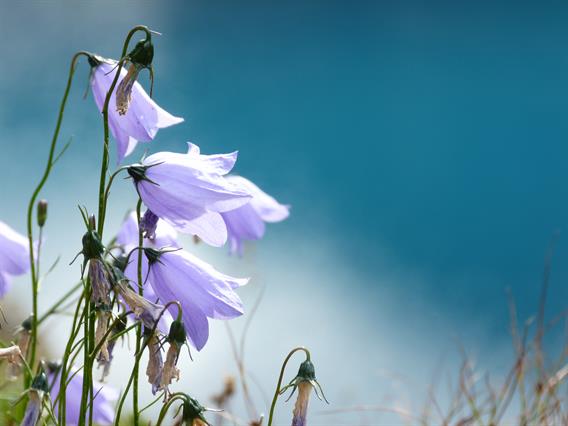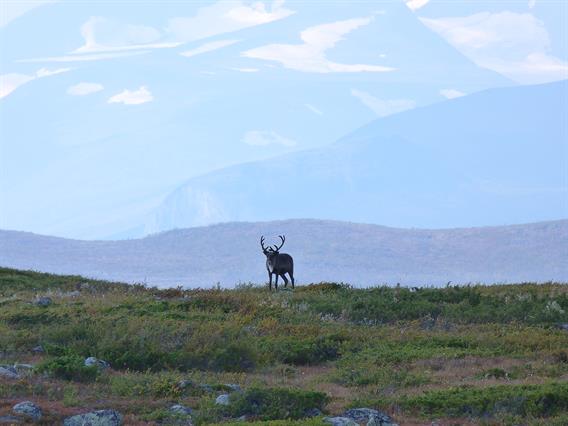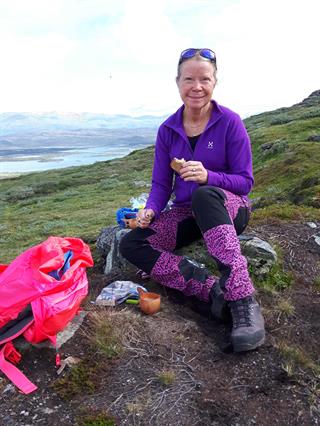 Hiking with Guide in North
Includes the hiking: transfer, guide, snack, lunch
Hiking – Midnight sun
We travel by minibus and walk about 3-4 km along the mountain Luossavaaras east side. After the path up to the mountain there is much to see and experience in terms of nature (flora, fauna, geology), history of the mine and facts about the future of the city. On the top we have the best view to see the midnight sun, there we enjoy a cup of coffee/tea and a lovely reindeer meat sandwich and for dessert a delicious homemade Kiruna Sunset Cake with cream and cloudberries. Departure: at. 21.00 (the trip takes about 3-4 hours) Price: 850 SEK / person, 450 SEK / child (6-15 years) Length: approx. 3-4h, total distance about 2-3 km Difficulty: Easy walking
Hiking – half day
We travel by minibus about 4 miles, and walk 4-5 km to see a beautiful river valley and the Kaledonian mountain range. We find a nice place to make a stop and enjoy a reindeer meat lunch, coffee and tea and a delicious homemade Kiruna Sunset cake with cream and cloudberries. Departure: Kl. 10.00 (the trip takes about 3-4 hours) Price: 950 SEK / Person, 500 SEK / Children (6-15 years) Length: 3-4h, total distance about 4-5 km Difficulty: Easy Duration: max 8 person min 2 person
Laddjujávri
We travel by minibus alongside the beautiful valley of the valley towards the Caledonian mountain range, we stay in some places along the way to photograph the beautiful scenery. When the road runs out, we begin the walk towards Ladjujaure, a glacier lake, with cold, light green clear waters. From here you can also see Sweden's highest mountain "Kebnekaise". At Laddjujàvri we enjoy a lunch at Sarris restaurant, enjoying nature and silence for a while before we return.You are also invited to snacks during the day. Price: 2000 SEK / person, 800 SEK / child (10-15 years) Departure: 08:00 Length: approx. 8-9h, total walking distance 10 km Difficulty: Easy walking Duration: max 6 person min 2 person
Trollsjön
We travel by minibus about 12 miles to Låkta anhalt. We start the hiking 4.5 km towards Trollsjön along the valley "Kärkevagge", where we can also see stone blocks and other landings from the ice sheet. We stay a little while to enjoy the magic nature and when we finally arrive at Trollsjön "Rissajaure". We find a nice place to make a stop and enjoy a reindeer meat lunch, coffee and tea and a delicious homemade Kiruna Sunset cake with cream and cloudberries. You are also invited to snacks during the day.Price: 2000 SEK / person, 800 SEK / child (10-15 years) Departure: 08:00 Length: 8-9h, total walking distance about 9km Difficulty: varying light and moderateLaddjujávri
Låktatjåkka
We travel by minibus about 12 km to Låkta anhalt. We start the walk 7 km to Sweden's highest mountain station 1228 mh. The high-pine trekking also shows a varied and inspiring flora and fauna. We find a nice place to make a stop and enjoy a reindeer meat lunch, coffee and tea and a delicious homemade Kiruna Sunset cake with cream and cloudberries.You are also invited to snacks during the day. Price: 2000 SEK / person, 800 SEK / child (12-15 years) Departure: 08:00 Length: 8-9h, total walking distance 14km Difficulty: you need good fitness
Hiking 3 days
Kebnekaise toptour (3 days) – west track (only these days 1/7-7/7)
Day 1: Your guide picked you up at your hotel 08.00am. We drive to Nikkaluokta 70 km and start hiking 5 km, boat 6 km, hiking 8 km.
Day 2: Toptour at Kebnekaise 2116 meter high, aproximately 10-12 hrs, total 18 km.
Day 3: Hiking to Nikkaluokta 8 km hiking, boat 6 km, hiking 5 km.
Includes the tour: transfer Kiruna-Nikkaluokta and return back, guide all days, 2 boattrips, 2 breakfasts, 2 dinners (homemade, not from the hotel), 3 st lunches (1 homemade)
Price: 4000 SEK/person, 3000 SEK/ child (14-15 år)
Depature: Day 1 at your hotel 08.00am
Difficulty: difficult, you need god condition and its nessecery that your body its use to walk up and down during lots of hours.
Participans: max 6 persons/min 6 persons
More: I give you more information about eqipment and the program of the tour when you confirm that you want to be in the tour. You book the hotel for 2 nights at Kebnekaise mountain lodge by your self.
The tour dosent includes: costs for hotel and helikopter if you need.