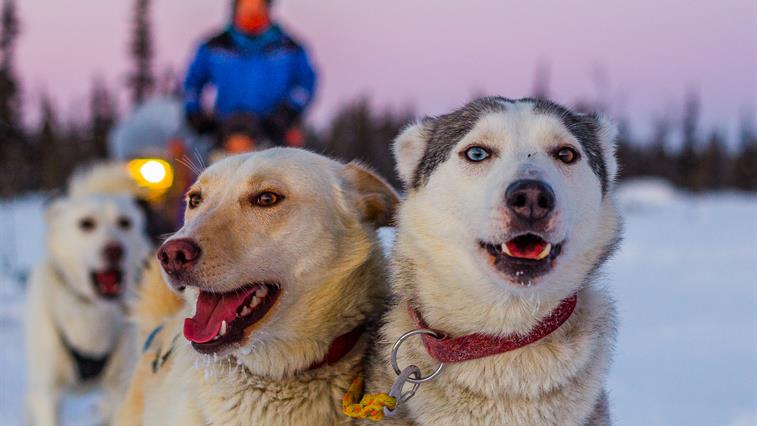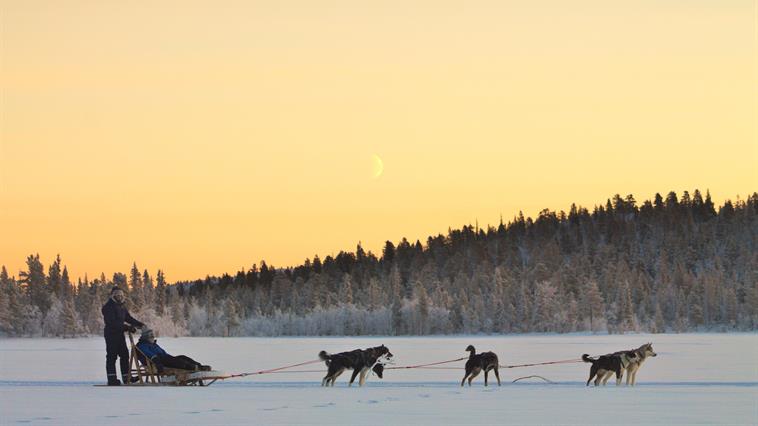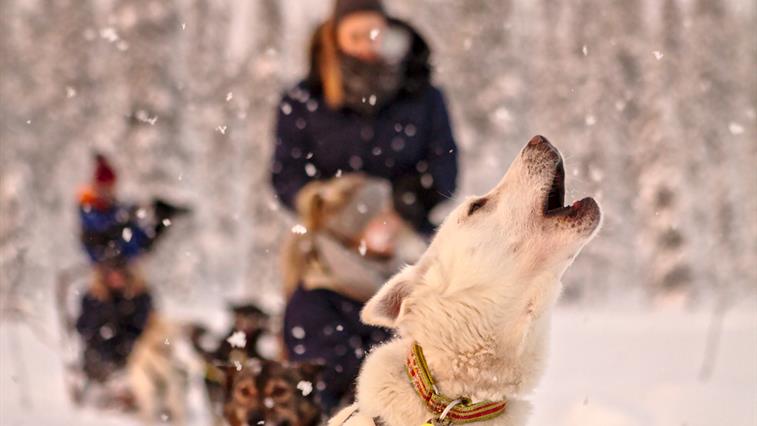 Dog Sledding Lapland (Lunch Tour)
Snowdog provides an incredible and unique experience of dog sledding in Lapland. Together with our small kennel of husky sled dogs, we make sure you are in for an unforgettable experience. It will be cold, yes, but we provide you with comfortable arctic style clothing and prepare you for the biting cold outside. Once you are all dressed up, we will drive you to our secluded location in the Poikkijärvi woods. We are located at about 17 kilometres away from Kiruna, just outside the crowded tourist areas close to the great Torne River and the Ice Hotel in Jukkasjärvi.
Always a warm welcome at our camp!
Once you arrive at our kennel, we will show you around, letting you meet our amazing, athletic and super friendly sled dogs before you go on your trip. We have a mixture of Siberian and Alaskan Huskies with blue eyes, brown eyes and everything in between. They love meeting new people and saying hello to them, as you'll soon discover! We will talk about every dog in the kennel and are more than happy to answer any questions you might have. After our experienced guides give you a short but essential training session on how to drive the sled, we will then begin to prepare your dog teams for the trip which of course you can help us with! This is high octane, very noisy and very exciting for everyone, including most of all the sled dogs! The few seconds before you set off is the part where the adrenaline kicks in, and then you go! The dogs become quiet and start running while you set off on your thrilling adventure.
Your Lapland dog sledding adventure.
During the trip, we will bring you through expansive open snowfields, across frozen lakes and through beautiful snow covered forests. Whilst you appreciate the stunning landscape, the exhilaration of being pulled by a strong pack of huskies and the experience altogether you will be fully responsible for looking after your dog team, but don't worry; our guides are always around to help in case you get into tricky situations. Along the trail we will stop a couple of times to give you an option to change drivers, this is also a good time for us to take photographs. All our guides are excellent photographers who will try to take at least a couple of pictures of you on your adventure, copies of these pictures are provided free of charge. We might also record some video clips which we will upload to our webpages. No matter what happens, we'll make sure you will return home with some memories of your dog sledding experience to look back on or to share with the rest of the world.
Back at the sled dog camp.
Once we arrive back at our husky camp, you can say thank you to your dogs by giving them a delicious reward; a tasty block of frozen raw meat! After their treat you can also help us with removing the harnesses from the dogs, helping us return them to their kennels, during this time, one of our team will prepare you a delicious lunch in our cosy fire hut. Normally this will be a local dish of salmon or mushroom soup served with warm Polar Bröd, followed by some lovely cake and finished off with a traditional warm Glögg and cookies which are best enjoyed next to our warm fire. Here we can relax a bit, with some music in the background, telling stories our own adventures with the dogs in the North. If we have time left before departure, you are of course free to roam the kennels a bit and take some more photos of the dogs.
What is included on the trip:
* Warm overalls for dog sledding and winter fun
* Transportation to and from your hotel (within 20km distance from our kennel)
* A tasty lunch! (Please let us know in advance if you are vegetarian or have any food allergies)
Additional information:
On the tour 2 people share a team of Sled dogs and Dogsled, both will have the opportunity to drive sled.
The lunch tour begins at 09:00 and finishes at approximately 14:00. Our season runs from the 15th of November to the 15th of April. Depending on the weather we may be able to provide tours after that date. Please contact us for more information.
Prices:
1750 SEK for adults.
1625 SEK for (Valid Student ID will be required)
850 SEK for children under 12.
Please also note whilst you do not need to be an Olympic Sprinter. Sometimes, depending on the snow conditions, you may have to help the dog team a little, which is normal in our sport. Do let us know in advance, if you have any health conditions that may affect you joining us, as we may still be able to accommodate you. So, please do get in touch.
https://www.youtube.com/embed/LU_mgFtjWlg