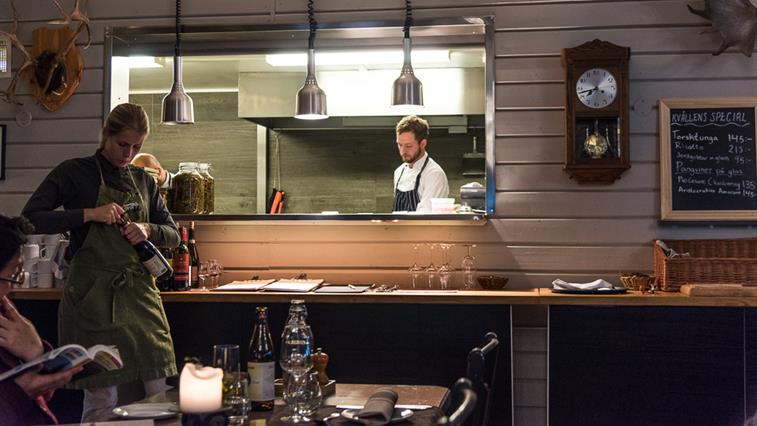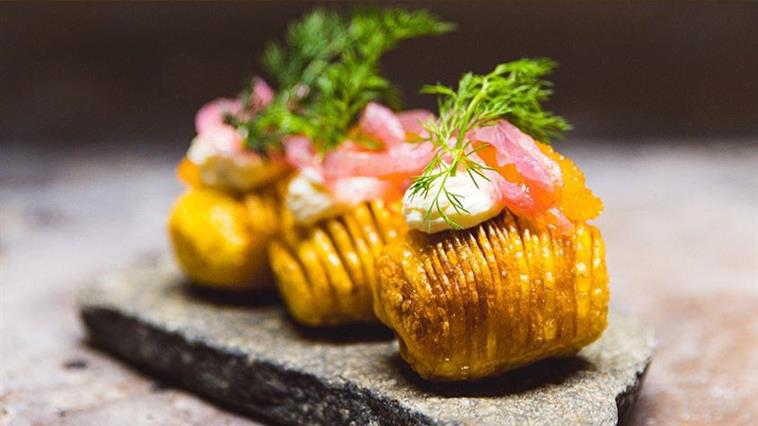 Brasserie Fjällköket
The wellness of wellbeing awaits after a good day the on the mountain. We are very proud of our Brasserie Fjällköket. The reputation of our Kitchen has spread a long way and we are happy to have guests coming not only to admire the views but also to celebrate birthdays, weddings or just to enjoy a really well-prepared meal after a day outdoors.
The Brasserie is open in the evenings and we have placed the roots of our food in the area surrounding us. The herbs are growing by the sun deck in summer, and the white fish is caught in the Torneträsk lake outside our doorstep. We make all our bread, crisp bread and sweet bread ourselves. The moose and reindeer are provided from the Samii villages in the area. The alpine sorrel and meadowsweet are picked on our hikes. As far as we possibly can, we work with short transports and providers close-by.  Head chef Niklas and his team delivers thought through menus all cooked from scratch in our kitchen. It (almost) goes without saying that there are vegetarian alternatives on the á la carte and different menus. If you have any allergies or other dietary requirements, this is no problem as long as we know in advance.
You should of course also have something really good in you glass, whether you are staying over or need to drive home after your meal. Try our Lodge beer  "How to take a Hike" – a lager our Evening manager Kristoffer has come up with together with the This is How brewery in Piteå. Try our recommended wines on the menu or some of our non-alcoholic suggestions. Relax in the lounge-sofas with an espresso or pick one of our many different teas.
In day time – we offer our Swedish Fika with all home-made goodies. The real star is Paulas cinnamon rolls. They are famous way outside Sweden and our European mountain guides, that bring up guests to us, are always superfast to order cinnamon rolls upon arrival at the Lodge. As put by one guest – "these rolls have a high density" – well, they are filled with lots of butter and cinnamon.
So – come and dine with us – it will be so good.