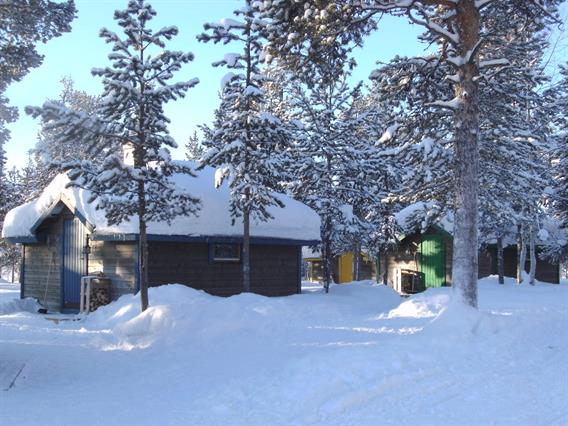 Katja Bechtloff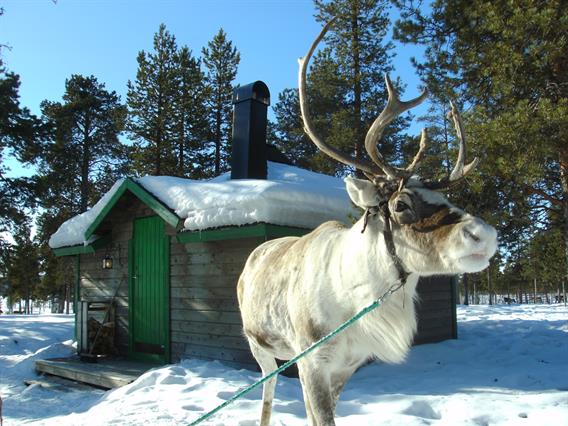 Katja Bechtloff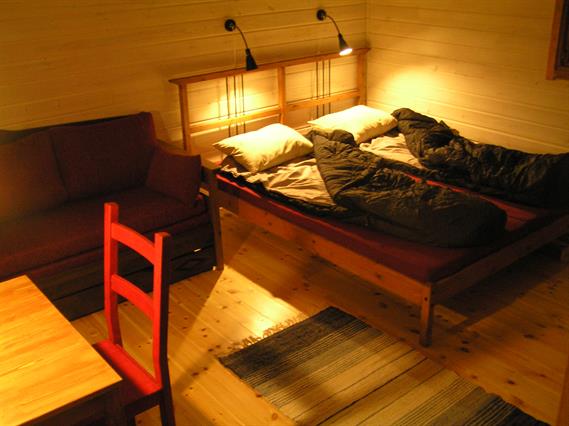 Nutti Sámi Siida AB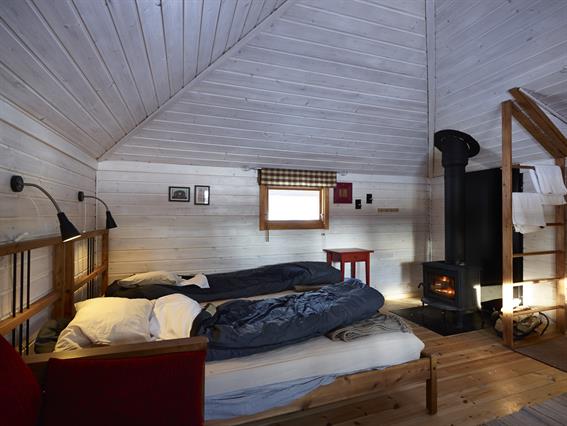 Hans-Olof Utsi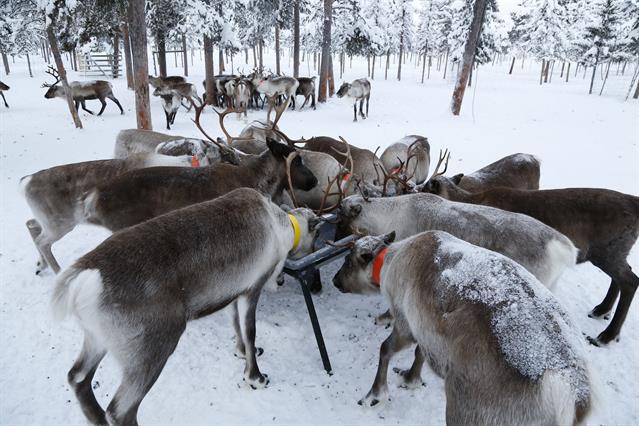 Christian Nilsson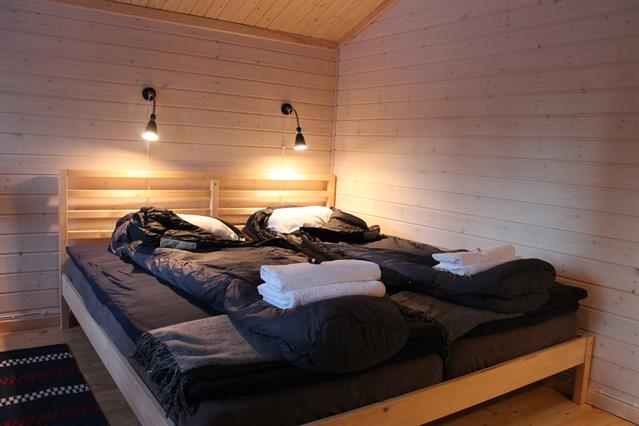 Katja Bechtloff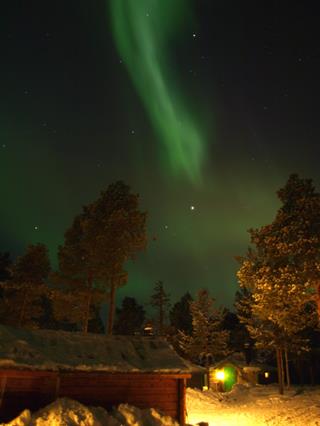 Carina Pingi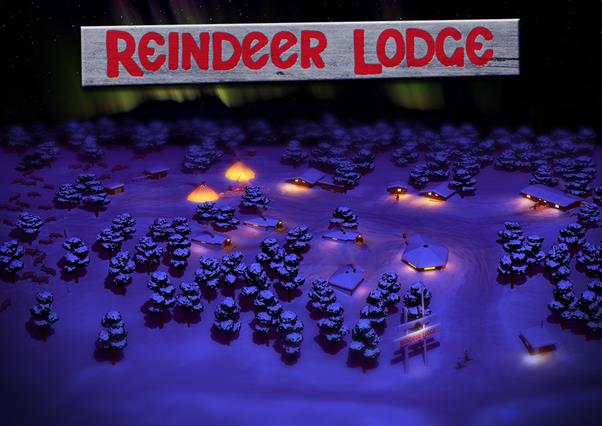 Nutti Sámi Siida AB
Reindeer Lodge (winter)
Welcome to Reindeer Lodge, eco-friendly accommodation, with an idyllic snowy landscape, grazing reindeer and sparkling northern lights right at your doorstep. Our lodge consists of five private cottages in Sámi design, remotely situated in the woods and at the banks of the Torne River. Here you will find the perfect balance of activity and tranquillity. Treat yourself with Sámi cuisine, a relaxing sauna and good company in the heart of Swedish Lapland.
Delicate dinners sourced from local ingredients such as arctic char, moose and reindeer meat are served by your host in our dining room in a cosy candle lit atmosphere. Afterwards, enjoy a steaming wood-burning sauna with the customary refreshing roll through the powdery snow! The night sky always provides a beautiful show, whether it's the spectacular northern lights, the bright Milky Way or cosy blanketing snow. The perfect place to watch the beauty of Lapland is curled up on a reindeer skin, down by the crackling fire with friends or family.
Our friendly reindeer are located in corrals right next to your cottage. You are always invited to help our guides feed the reindeer in the morning, which we believe is the best way to wake up! There are also free snowshoes and cross-country skis available to use and the world-famous Icehotel is located only half an hour's walk from Reindeer Lodge. Free entry to Sámi Siida-Márkanbáiki applies for all Reindeer Lodge guests, so please don't forget to stop by! And last but not least, why not adding some of our Sámi eco adventures to make your stay complete?
Price 1:
Adult: SEK 1700 per night in double/triple and four bed room
Child (3-12 yrs): SEK 990
Adult single: SEK 2690
Price 2:
Adult: SEK 1900 per night in double/triple and four bed room.
Child (3-12 yrs): SEK 1100
Adult single: SEK 2900
DATE AND PRICE
5 November – 9 December 2018: Price 1
10 December 2018 – 6 January 2019: Price 2
7 January – 3 February 2019: Price 1
4 February – 28 February 2019: Price 2
29 February – 6 April 2019: Price 1
CHECK-IN: From 14.00. Free shuttle bus transfer 13.40 from Kiruna Airport to Reindeer Lodge and Jukkasjärvi, every Tue/Thu/Fri/Sun, 1 Dec 2018 – 31 March 2019. Free minivan transfer 14.30 from Kiruna hotels/ Tourist Center/ Train Station and 15.00 from Icehotel Meeting Point to Reindeer Lodge, daily 5 Nov 2018 – 6 April 2019.
CHECK-OUT: 11.00 at the latest. Free shuttle bus transfer 11.05 (Mon/Wed/Sat) and 11.35 (Tue/Thu/Fri/Sun) from Reindeer Lodge to Icehotel, Kiruna Airport/ Train Station and Tourist Center, daily 5 Nov 2018 – 7 April 2019.
INCLUDED: 2-course dinner 18.00 and breakfast buffet 08.00-10.00. Sauna, sleeping bag, bed linen and bathing towel. Reindeer feeding 10.00 and free entry to Sámi Siida-Márkanbáiki. Scheduled check-in/out transfer against pre-booking only!
DIET: Food allergies/ intolerances to be advised when booking.
EXCLLUDED: Alcoholic beverages.
INFORMATION: Five wooden double bed cottages, each cottage is one large room á 20 m2. Four out of five cottages are also furnished with a sofa bed (size 1.60 x 1.80 m). Each cottage is equipped with wood-fired stove and electrical heater, table and chairs. A communal wood-fired sauna with separate shower and dressing rooms as well as WCs are found in separate communal facilities. A common timber log building serves as kitchen/dining room with seating and free Wi-Fi.
ADDRESS: Paksuniemivägen 188 in SE – 981 91 Jukkasjärvi. 3 km from Icehotel/Jukkasjärvi village, 15 km from Kiruna Airport and 20 km from Kiruna.
QUALITY: Sápmi Experience and Sustainable Arctic Destination certified.