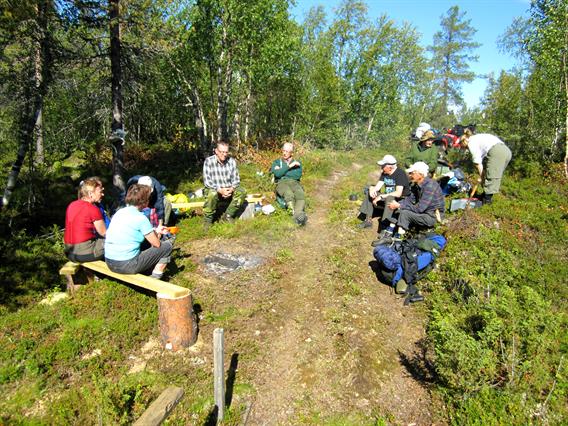 Veteranerna ek.för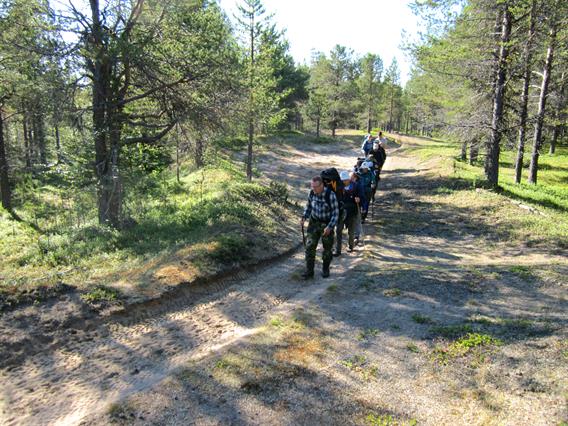 Veteranerna ek.för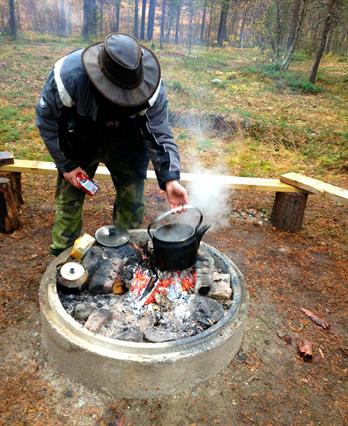 Veteranerna ek. för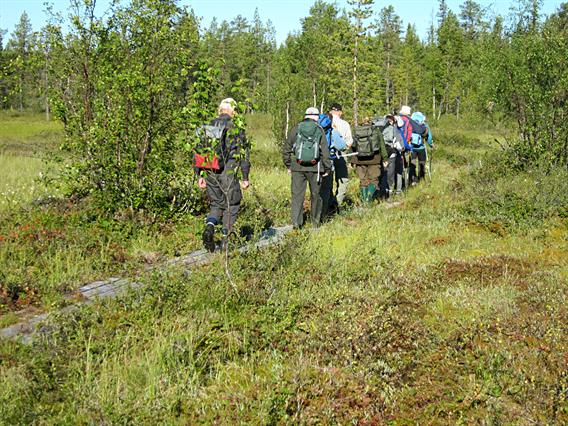 Veteranerna ek. för
Lannavaara a stay beyond time and space
The Laestadius trail follows the embankment from the 1900's. When you arrive at the forest, the ground is solid and the trail up to Nunasvaara is easy to follow. Thereafter the trail goes up along a slope. During the hike in August 2012, there were so many mosquitos that no one wanted to stop and rest.
Ernst Mankel, who hiked in autumn 1932, described this stretch:
"After a while we were above the coniferous forests and walked through a sparse twisted mountain birch forest, where the trees seemed to grow according to the same principle as the horns on a reindeer. Still we walked along with the crown out of reach … and when the forest became a mountain moor, Nunas began to roll down the side. We had reached the crown of the mountain."
According to traditional oral tales, horns and stones were sacrificed here for successful hikes, hunting or so that the reindeer would fare well. The view is magnificent on clear days, where you can see all the way to the villages in the Lainio river valley.
The length of the walks are approximately 10 km/day and takes place in easy terrain. It is an old trail partly surrounded by forest. The terrain is hilly with a height difference that most of about 200 height meters. Walks take place in groups with a guide. We walk in silence in a slow pace. Information is provided on the village's ancient culture and history.
The goal is to experience Lannavaara and its unspoilt nature, meditative walks, stillness and meetings with people.
Practical information about the tour:
Date: Summer 2017. Dates unclear. Stays can be arranged on request.
Price: SEK 6600 (transport included), SEK 5950 (excluding transport)
Minimum. 4 participants
Sign up: info@qbl.se or phone +46 70 552 54 16.
Detailed information will be sent out to each participant after signing up.
The price includes:
* Full Board from Wednesday night through Sunday breakfast
* Two hours transfer from Kiruna airport to Lannavaara
* Accommodation at STF hostels Lannavaara and sauna bath at Kristallen
* Visit to St Joseph's Convent and the Princess Eugenies Memorial Church
* Guided meditative walks
* Stone grinding
* Nature's energies
* Cultural brochure
Programme:
* Wednesday: Pick-up at Kiruna airport, guided trip to Lannavaara, dinner, presentation by the fire
* Thursday: Hike along the Laestadius trail
* Friday: Creation such as stone grinding, divining
* Saturday: Walk along the Laestadius trail
* Sunday: Vesper, reflection, check-out. Transport to Kiruna Airport.
Morning activity:  Meditation.
Evening activity:  Experience sharing and gathering by the fire.
Participation in activities are on your own terms.
Equipment:
Participant brings hiking shoes, simple backpack and raincoat, jacket and packed lunches. Walking sticks may be used. Detailed guidelines are provided in the information letter.
Payment: 
Adressee: Veteranerna Ekonomisk Förening
Bank BIC: SWEDSESS
IBAN:     SE13 8000 0826 4406 3110 4098
Read more about Lannavaara on www.laestadiusleden.se and www.kristallen.com